Motor Driven Dosing Pump Electrofertic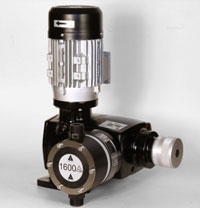 Piston type
The Electrofertic dosing pumps are motor driven piston pumps for dosing, made up of a worm gear reducer and one or two injection modules of 500, 750 or 1000 liter/hour with electronic regulation by means of a frequency Inverter.
The dosing flow can be regulated from 10% to 100%.
It is manufactured with materials which can resist any chemical. It is designed for all sorts of processes where it is necessary to dose a product into a hydraulic network, such as food, textile, chemical industry, water treatment, etc.
CODE
FLOW
PRESSURE
50Hz
60Hz
l/h
GPH
l/h
GPH
bar
PSI
Piston
72-R3-5P5_
330
87
396
104
12
174
72-R3-5P6_
500
132
600
158
8
116
72-R4-5P5_
660
174
800
211
12
174
72-R3-5P7_
665
176
798
211
6
87
*72-R5-5P5_
800
211
-
-
11
160
72-R4-5P6_
1000
264
1200
317
8
116
*72-R5-5P6_
1200
317
-
-
7
100
72-R4-5P7_
1330
351
1600
422
6
87
*72-R5-5P7_
1600
422
-
-
5
73
72-R3-5P5_-5P5_
330+330
87+87
396+396
104+104
12
174
72-R3-5P6_-5P6_
500+500
132+132
600+600
158+158
8
116
72-R4-5P5_-5P5_
660+660
174+174
800+800
211+211
12
174
72-R3-5P7_-5P7_
665+665
176+176
798+798
211+211
6
87
*72-R5-5P5_-5P5_
800+800
211+211
-
-
11
160
72-R4-5P6_-5P6_
1000+1000
264+264
1200+1200
317+317
8
116
*72-R5-5P6_-5P6_
1200+1200
317+317
-
-
7
100
72-R4-5P7_-5P7_
1330+1330
351+351
1600+1600
422+422
6
87
*72-R5-5P7_-5P7_
1600+1600
422+422
-
-
5
73
Diafragm
72-R3-3D4_
207-267
55-71
249-321
66-85
10
145
72-R3-3D5_
260-342
69-90
312-411
82-109
7
102
72-R4-3D4_
415-535
110-141
498-342
132-170
10
145
72-R3-4D5_
435-522
115-138
522-627
138-166
5
73
*72-R5-3D4_
498-642
132-170
-
-
10
145
72-R4-3D5_
520-685
137-181
624-822
165-217
7
102
*72-R5-3D5_
624-822
165-217
-
-
7
102
72-R4-4D5_
870-1045
230-276
1044-1254
276-331
5
73
*72-R5-4D5_
1044-1254
276-331
-
-
5
73
72-R3-3D4_-3D4_
415-535
110-141
498-342
132-170
10
145
72-R3-3D5_-3D5_
520-685
137-181
624-822
165-217
7
102
72-R4-3D4_-3D4_
830-1070
220-282
996-1284
263-339
10
145
72-R3-4D5_-4D5_
870-1045
230-276
1044-1254
276-331
5
73
*72-R5-3D4_-3D4_
996 -1284
263-339
-
-
10
145
72-R4-3D5_-3D5_
1040-1370
274-362
1248-1644
330-434
7
102
*72-R5-3D5_-3D5_
1248-1644
330-434
-
-
7
102
72-R4-4D5_-4D5_
1740-2090
460-552
2088-2508
552-662
5
73
*72-R5-4D5_-4D5_
2088-2508
552-662
-
-
5
73
*max. 60Hz
HYDRAULIC
Connections: X (1 1/4") / Y (1 1/4"NPT)
ELECTRICAL
Voltage: 230 / 400 Vac 3ph 50/60Hz
Power: 1.5 Kw (2 Hp)
Protection: IP55 clase F
MATERIALS
Cylinder: P.P / AISI 316 / PVDF / PTFE
Diaphragm: Elastomer base reinforced with fiber and P.T.F.E clothing
Piston: Ceramic / PEUHMW Sealing: FPM
Valve (body): P.P / AISI 316 / PVDF / PTFE
Valve (ball): glass / glass borosilicate / AISI 316
WEIGHT AND DIMENSIONS
Weight: One module 48 kg (105 lb), Two modules 65 kg (143 lb)