Motor Driven Dosing Pump Dostec - 50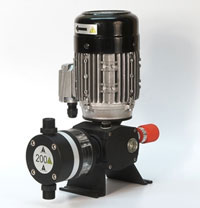 Diaphragm & Piston type
DOSTEC-50 dosing pumps are heavy duty, high precession, motor driven diaphragm pumps for dosing liquid products.
This series allows many injection possibilities depending on the head being chosen. The available heads are: 330 to 1000 l/hr
DOSTEC-50 dosing pumps are manufactured with materials that can resist most chemicals. They are designed for all sorts of processes where it is necessary to dose a product into a hydraulic network, such as food, textile, chemical industry, water treatment etc.
Aluminium Die-cast body
Maintaince free
10% to 100% Stroke Length Adjustment
Option for connect Variable Frequency Drive for providing 4-20 mA.
CODE (Ø x Stroke length)

FLOW
PRESSURE
50Hz
60Hz
l/h
GPH
l/h
GPH
bar
PSI
Piston

71-LP33-P77
167
44
200
53
12
174
71-LP34-P77
250
66
300
73
12
174
71-LP33-P110
330
87
400
106
5,5
80
71-LP43-P77
330
87
400
106
12
174
*71-LP53-P77
400
106
-
-
12
174
71-LP34-P110
500
132
600
159
5,5
80
71-LP44-P77
500
132
600
159
11
160
*71-LP54-P77
600
159
-
-
9
131
71-LP44-P95
750
198
900
238
7,5
109
*71-LP54-P95
900
238
-
-
6
87
71-LP44-P110
1000
265
1200
317
5,5
80
*71-LP54-P110
1200
317
-
-
4,5
65
Diaphragm
71-LD31-D142
104-134
27-35
124-160
33-42
10
145
71-LD32-D142
156-201
41-53
186-241
49-64
10
145
71-LD33-D142
207-267
55-71
249-321
66-85
10
145
*71-LD51-D142
249-321
66-85
-
-
10
145
71-LD33-D163
260-342
69-90
312-411
80-109
7
102
71-LD42-D142
311-401
82-106
373-481
99-127
10
145
71-LD43-D142
415-535
110-141
498-642
132-170
10
145
71-LD34-D163
435-522
115-138
522-627
138-166
5
73
*71-LD53-D142
510-642
135-170
-
-
9
131
71-LD43-D163
520-685
137-181
624-822
165-217
7
102
*71-AD53-D163
648-822
171-217
-
-
6
87
71-AD44-D163
870-1045
230-276
1044-1254
276-331
5
73
*71-LD54-D163
1080-1254
285-331
-
-
4
58
HYDRAULIC
Connections: X (1"1/4) / Y (1"1/4 NPT)
ELECTRICAL
Voltage: 230 / 400 Vac 3ph 50/60Hz, 230 Vac 1ph 50Hz,
Power: 0.750 Kw (1 Hp)
Protection: IP55 clase F
MATERIALS
Cylinder: P.P / AISI 316 / PVDF / PTFE
Diaphragm: Elastomer base reinforced with fiber and P.T.F.E clothing
Piston: Ceramic / PEUHMW Sealing: FPM
Valve (body): P.P / AISI 316 / PVDF / PTFE
Valve (ball): glass / glass borosilicate / AISI 316
Bloque: Aluminium cast
WEIGHT AND DIMENSIONS
Weight: 21 kg (46lb)